Paul Richardson - WR #6 - University of Colorado
Height: 6' 3/8"
Weight: 175 lbs.
Arms: 32 5/8"
Hands: 8 7/8"
Vs. Oregon
In these films, Paul Richardson will be going against #27 Terrance Mitchell (Projected 3rd day in 2014) and Ifo Ekpre-Olomu (Top 10 CB prospect in 2015)
Here, matched up against Terrance Mitchell, Richardson shows his straight line speed. This, I believe, is his greatest asset. He ran a 4.40 forty at the combine, and that speed shows up when he's asked to run straight downfield.
Here, Richardson is matched up against Ifo Ekpre-Olomu, and displays that great straight line speed again. He quickly eats up the corner's cushion and continues to accelerate and break away from the defender. However, he misreads the ball in flight, looks for the defender, and breaks his stride. A big play opportunity is squandered due to a lapse in concentration.
Matched up again against Ifo Ekpre-Olomu, Richardson gets a great release on his fade route. Richardson makes a great one-handed catch while laying out. Ekpre-Olomu is called for pass interference on the play. After all my film reviews of wideouts, this is one of the most impressive catches I've seen to date.
Matched up against Terrance Mitchell, Richardson displays his great release. He's never physical at the LOS, preferring to dip and shake, but he does it well. You can also see his superior acceleration in this film. At the end, Richardson drops a good pass that hits him directly in the hands.
Vs. Utah
In these films, Paul Richardson will be going up against #1 Keith McGill (projected 3rd day in 2014).
Here, Richardson breaks away from McGill down the sideline but again drops the easy catch. Richardson has very small hands for a 6 foot wideout, but catches like this are routine and are almost always the result of a lapse in concentration.
If GIF doesn't work, click here
Where do I start? Richardson is being given a 5 yard cushion by McGill. He's lined up off the LOS, but doesn't step up when the TE goes in motion. He gets called for illegal formation. Then, he doesn't run a crisp route. McGill sees him round his out-cut and breaks immediately, almost intercepting the ball. He could've caused his team a turnover, instead he cost them 5 yards.
If GIF doesn't work, click here
Here, McGill is giving a big cushion to Richardson. Richardson runs a hitch route, and catches a poorly thrown ball. After the catch, he makes a nice little shake to pick up 5 yards in a flash.
If GIF doesn't work, click here
Again, Richardson displays that great straight-line speed. He eats up that corner's cushion and gets behind him. The ball is overthrown, but Richardson lays out and almost makes an amazing catch.
Vs. USC
One clip here versus Josh Shaw (Top 10 CB in 2015)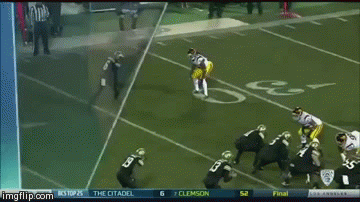 In this film, I wanted to show Richardson matched up against someone with similar speed. Richardson tries to accelerate past him to the outside, but cannot beat him. Luckily, the ball is under-thrown. Richardson blatantly pushes off, but goes up and high points the ball, and brings it down to complete the reception.
Great Catches/Concentration
In these two clips, Richardson is not going up against top caliber corners.
The ball is overthrown and behind, but Richardson maintains his speed and makes a very pretty leaping and spinning catch.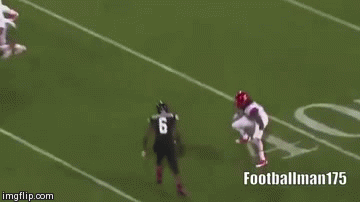 The corner is grabbing him and bumping him but Richardson is still able to make a sick concentration catch.
Conclusion
Paul Richardson is a good receiver who needs a lot of polish. He is not an accomplished or precise route runner and has too many concentration lapses. I worry that the speed of NFL corners will take his straight-line threat away, leaving him with not much else in his repertoire. On the other hand, he played on a bad team and that likely diminished his production. Unfortunately, I don't see him having much success at the NFL level unless he significantly improves his game in several categories.