"Salsa lessons with Victor"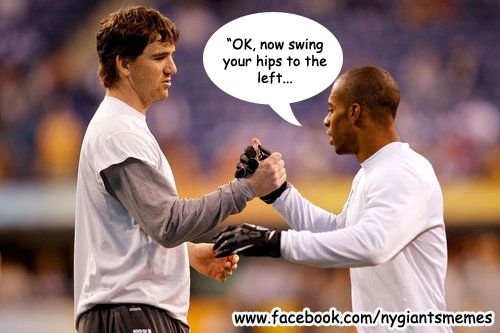 But seriously, Eli offered to restructure his deal to keep Cruz. "If the Giants want to work something out, I am always up for listening and figuring out what I can do to help the cause." Here is the link to the ESPN story:
http://espn.go.com/new-york/nfl/story/_/id/9075471/eli-manning-willing-rework-deal-keep-victor-cruz-new-york-giants
He says, "I've been sending a few texts to him. 'Yeah, hey, get this done. Make sure he stays with us,...Obviously I want Victor back with the Giants, and obviously right now he is [tendered]. I check the papers every morning to make sure no one else has offered him a contract. It is nerve-racking though. He is anxious. I know he has been dealing with this contract issue for a long time. I know he wants it just settled and wants to get back to playing football and just worrying about that."
What do you think of Eli restructuring his contract ala Tom Brady?